Molybdenum and Mo-Alloys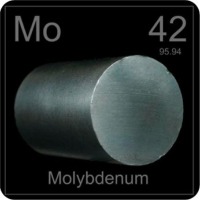 Marketech offers all forms of molybdenum and
Mo-alloys in a wide range of compositions.
Our technical experts offer support to provide you with high quality products suited to your exact specifications.
Wires for Lighting
Sintered Crucibles and Substrate Holders for Molecular Beam Epitaxy
Boats and Cups for the Annealing Filaments and Electrodes
Semiconductor Base Plates
Pins and Hats for Microwave Magnetrons
Tube Components for Cathode Ray Tubes
Components of Vacuum Furnaces
Nozzles for Manufacturing Glass and Glass Fibers

 
Custom Machining
Marketech offers expert custom machining of Molybdenum and other refractory metals that are high quality, high performance, and well suited for industrial and commercial applications.  No job is too small, from prototyping to large volume runs, Markech's technical sales representatives can assist you with high quality, cost effective materials and our production experts deliver precision engineered components.